East Anglia trains: Ice affected electric line supply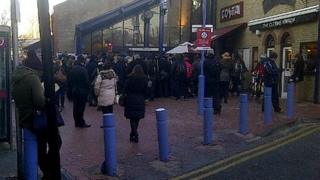 Train services between London and Norfolk via Cambridge and Chelmsford have suffered problems because of ice.
Power in overhead cables kept tripping out in the Cambridge area, affecting all services between King's Cross and King's Lynn and the Midlands.
An engine developed problems at Chelmsford and there were delays between Norwich, Ipswich and London.
Network Rail sent engineers to Cambridge and the services were back to normal by the afternoon.
Buses had earlier carried passengers between Cambridge and Ely, causing delays.
Crowded platforms
The fault affected First Capital Connect and East Coast services through Cambridgeshire and Hertfordshire.
A spokesman for Greater Anglia said trains moved on a single line through Chelmsford where the broken down train was stuck at one of the two platforms.
The broken down train's equipment for picking up power from overhead lines was faulty, a Greater Anglia spokesman said.
A signalling problem at Wolverton also caused delays on trains between Northampton and Milton Keynes Central,
The companies apologised to passengers.