Harlow's £1.5m renal dialysis unit to open in summer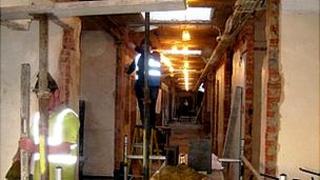 The first specialist renal dialysis unit to be built in a Harlow hospital is due to open in early summer.
Work is under way on a 12-station unit at the Princess Alexandra Hospital at a cost of £1.5m which will be able to treat up to 70 patients at a time.
Many patients from the Harlow area currently travel to the Lister and the Royal hospitals in London.
The unit will also benefit kidney patients in Essex. Some are treated at Broomfield Hospital in Chelmsford.
General manager for renal medicine Bridget Sanders, said: "We know that people from Harlow and the surrounding areas are making daily trips to dialysis units in Chelmsford and London.
"Having a service on their door step will be great for them.
"At the same time as developing the Harlow unit, we're also creating a similar service in Bedford.
"Once everything is in place by the middle of this year, this means that the Lister's nationally recognised renal dialysis service will act as a hub supporting four satellite units in St Albans, Luton, Bedford and Harlow - making the service one of the largest in Eastern England.
Hospital chief executive Jules Martin said: "The best thing about the East and North Hertfordshire outpatient renal service on our site at Harlow is that it's going to make things so much easier for our patients.
"They will no longer be expected to travel miles for their treatment."