Woman's rape claim against conductor Michael Brewer 'fantasy'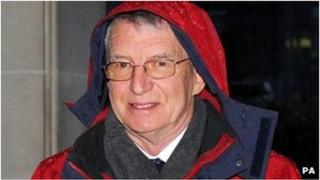 A woman who alleges she was raped as a teenager by her school's musical director has been "indulging in the realms of fantasy", a court has heard.
Michael Brewer, now 67, is accused of carrying out the offences at Manchester's Chetham's School and his home, between 1978 and 1982.
Kate Blackwell QC, defending, said the woman had told Manchester Crown Court "a complete pack of lies".
Mr Brewer from Selly Oak, Birmingham, denies rape and indecent assault.
His ex-wife, Hilary Brewer, 67, from Rossendale, Lancashire, is also on trial and denies aiding and abetting rape and indecent assault.
The woman has previously claimed that Mr Brewer, now of Swarthmore Road, began a relationship with her when she was 14, and that "intensified" into intimate touching and full sex.
She said he had abused her at his former home in Chorlton-cum-Hardy, Manchester, while his ex-wife and children slept upstairs.
Miss Blackwell, representing Mr Brewer, said the woman's claims were fantasy.
The woman replied that she was "not in the realms of fantasy and I really understand why so many cases do not come to court".
She went on to allege she was subjected to a rape at the house when she was 18, and that Mrs Brewer indecently assaulted her.
'Utter fantasy'
The jury was told that following the alleged rape, the three slept in the same bed overnight before Mr Brewer took the woman to the railway station.
Miss Blackwell said this scenario was "utter fantasy" and that the woman had "told this jury a complete pack of lies about the visit to this house".
"You spent the night lying next to two of your rapists?" she asked.
The woman answered that the incident had happened, but that she "felt guilty [and] did not know how to get out of it".
"This is a lie, you could have left the house at any time," said Miss Blackwell.
"You have clearly no feminine understanding of what someone goes through like that, what shock your body goes through, how you almost feel you deserve it," said the woman.
Mr Brewer, who was awarded an OBE, went on to become the artistic director of the National Youth Choirs of Britain, directed the World Youth Choir and also worked on the BBC's Last Choir Standing programme.
The trial continues.