South West Trains services cancelled ahead of snow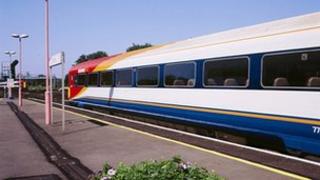 Some trains will be cancelled and others face revised services in south and south-west England as operators prepare for Friday's heavy snowfall.
South West Trains (SWT) said it would not be running trains between Ascot in Berkshire and Ash Vale in Surrey.
No services will run between Salisbury and Bristol or Virginia Water and Weybridge in Surrey, the company said.
SWT routes to Hampshire, Berkshire, Surrey, Dorset, Wiltshire, Somerset and Devon will also run revised services.
In addition services on the Southern network will also be disrupted.
'Severe weather'
Jake Kelly, customer service director for the South West Trains - Network Rail Alliance, said: "Over the past few days, we have been carefully monitoring the weather forecast to enable us to make a decision about the level of service we should plan to run.
"With severe weather warnings in place for heavy snow on our network, we have taken the decision to put a special timetable in place for Friday 18 January.
"We know that what our passengers want most is certainty about when and how they are going to get to their destination.
"This special timetable helps ensure this by running slightly fewer services and allowing more time for trains to cope with poor conditions."
Mr Kelly said it would help avoid train crew being in the wrong place and would help passengers plan ahead.
David Sidebottom, passenger director at watchdog Passenger Focus, said: "Passengers tell us that if there is going to be disruption they need as much notice and information as possible to help them plan their journeys, so we welcome this forward planning by South West Trains.
"We would also hope to see a good flow of information tomorrow if severe weather means even less trains can run or conversely if the predictions prove unfounded we would want to see services increased and passengers kept informed both before they travel and at the station."
The revised timetables have been published on the South West Trains website.