Rape accused tutor Michael Brewer 'quit over pupil affair'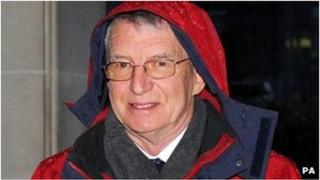 A music teacher accused of raping a pupil 30 years ago had to quit his job after fondling another schoolgirl in his office, a court heard.
Michael Brewer, now 67, admitted a relationship with a 17-year old schoolgirl at Chetham's School in 1994, Manchester Crown Court has heard.
He is on trial accused of offences against an underage girl at the school in the 1970s and 1980s.
Mr Brewer, of Birmingham, denies rape and 13 counts of indecent assault.
'Something strange'
His ex-wife, Hilary Brewer, 67, from Rossendale, Lancashire, is also on trial and denies aiding and abetting rape and indecent assault.
Mr Brewer joined the prestigious music school in 1992 and quit two years later, after the affair with the schoolgirl was uncovered.
Giving evidence, she said she had not seen their relationship as abuse at the time but saw it "a bit differently now as an adult".
He bought her presents, kissed and touched her while she was semi-naked, and told her he had slept with another student, she told the court.
She said they were caught out when the headmaster, Rev Peter Hullah, knocked on Mr Brewer's office door when she was naked from the waist up.
She said Mr Brewer "instantly panicked" and she was "slipped out" of a side door, but Mr Hullah caught sight of her in the corridor.
Mr Hullah told the court he thought "there was something strange about the incident" and asked Mr Brewer about their relationship.
He admitted it and immediately offered to resign, Mr Hullah said.
Mr Brewer, who was awarded an OBE, went on to become the artistic director of the National Youth Choirs of Britain, directed the World Youth Choir and also worked on the BBC's Last Choir Standing programme.
The trial continues.