Southern Water: Hosepipe ban is 'very far away'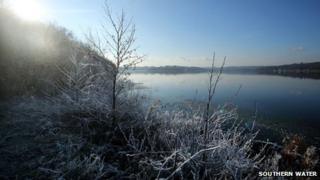 A water company which supplies Kent, Sussex, Hampshire and the Isle of Wight says its reservoirs are full or nearly full following the wettest year on record.
Southern Water also said two of its aquifers in Sussex were reaching record levels.
The company said its reservoirs were all at well above average levels.
Meyrick Gough, from Southern Water, said thoughts of a hosepipe ban were "very far away".
About 70% of the water is supplied from underground chalk aquifers, which have also been refilled.
Meyrick Gough said: "The weather over the past 12 months has been very unpredictable, making life difficult for everyone.
"Now, we're in the opposite position and thoughts of a drought and hosepipe ban are very far away.
"Instead we have some customers experiencing very difficult conditions as a result of the amount of rainfall we have received.
"We are now in a very strong position ahead of the spring and summer."
Last April, seven water companies in southern and eastern England introduced hosepipe bans affecting about 20 million customers.
Southern Water lifted its hosepipe ban on 13 June, with the last four companies removing their bans on 9 July.