England snow: Major delays to rail services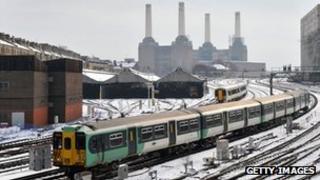 More travel disruption has hampered commuters on Monday evening as snow and ice continue to hit England.
Several rail companies reported major delays and some were already cancelling trains due to run on Tuesday morning. Flights continue to be cancelled or delayed at a number of airports.
Further snow is predicted in the north east of England.
It has emerged a postman died while carrying out his rounds in freezing conditions on Exmoor on Saturday.
It is believed John Bircham had a heart attack after trying to free his van from a snowdrift.
BBC weather reporter Susan Powell said: "Even where the conditions become comparatively quieter, do bear in mind that, thanks to the cold, there is a risk of icy stretches just about anywhere.
'Significant and disruptive'
"The wind is playing a big part in making the situation worse - there is drifting snow across the north east of England.
"By the end of the night we have to switch our focus south-westwards because it looks like we could see a weather feature... that could bring some significant and disruptive snow."
East Midlands Trains, First Capital Connect, Greater Anglia, London Midland, London Overground, Southeastern and Southern were among the rail operators reporting major delays.
Southern said trains were unable to operate between Horsham in West Sussex and Dorking in Surrey.
South West Trains (SWT) is operating a revised service but no trains are running between Ascot in Berkshire and Ash Vale in Surrey.
Services between Salisbury and Bristol and between Virginia Water and Weybridge and Guildford and Leatherhead in Surrey have also been cancelled, the company said.
London Midland said trains between Lichfield Trent Valley, Four Oaks and Redditch could be cancelled or delayed at short notice.
Greater Anglia said services could be cancelled and its trains were running a reduced speeds meaning delays of up to half an hour were possible.
First Capital Connect said trains between Brighton and Bedford were being delayed by up to 60 minutes.
Toppled lorry
Meanwhile trains between London Paddington and Reading were being delayed by up to an hour by a signalling problem.
Eurostar cancelled one service from Brussels to London and another from Paris to London and has already announced the cancellation of a number of trains in both directions on Tuesday.
By 20:00 GMT Southeastern had already cancelled more than a dozen Tuesday morning rush hour services due to run between Kent and London.
The YMCA in Worcester called on councils to do more to protect homeless people during the cold weather. Temperatures there are expected to drop to -4C overnight.
Manager Angie Rich said the centre was full and staff were desperately trying to help rough sleepers.
Snow forced the closure of the A66 in Durham and Cumbria. The A628 in South Yorkshire was also closed for several hours on Monday while Highways Agency contractors cleared the drifting snow.
Many other roads were also affected - a lorry toppled over on the M40 early on Monday leading to the closure of the southbound carriageway between the M42 junction and junction 15 at Warwick.
The Highways Agency advised drivers to plan their journeys or consider delaying their plans if the weather becomes severe.
A spokesman said: "Our roads will be treated whenever there is a risk of ice or snow, and our winter fleet works around the clock, but we need road users to give them the space they need to do their job.
"We advise drivers to pay particular care at locations where local conditions such as road gradients, bends or overhanging trees mean that there may be an increased risk of ice.
"There is still a need to drive with care, even after road surfaces have been treated."
The East of England Ambulance Service issued a warning after reports of at least a dozen sledging-related injuries.
While none was life-threatening, some children and adults sustained broken bones or head injuries requiring hospital treatment.
A spokeswoman said: "People should ensure they are well wrapped up and always in control while sledging and wear safety gear as appropriate.
"The fun really isn't worth it if you wind up with a painful injury in A&E."
Meanwhile, Thames Valley Police officers who work outside for long periods have been given permission to wear woolly hats issued by the force.
Freezing ground
The AA said breakdowns were being reported at the rate of about 2,000 an hour, with the busiest areas in the Midlands, London, the South West and South East of England.
Air passengers were being advised to check with airlines before travelling as flights from various airports were being delayed or cancelled.
London's Heathrow Airport said it reduced capacity by 10% on Monday and more than 200 flights were cancelled, with several others leaving or arriving hours late.
Birmingham Airport was also affected, with some departures and arrivals cancelled and delays reported.
Flights at Manchester Airport, Leeds Bradford, East Midlands Airport and Robin Hood Airport were suspended during the morning to allow snow to be cleared from the runways.
Gatwick Airport also experienced delays.
Heathrow Airport said disruption was being caused by low visibility. A spokesman said: "When there is low visibility, more space has to be left between aircraft.
"Many airports have plenty of spare runway capacity so aircraft can be spaced out more during low visibility without causing delays and cancellations.
"Because Heathrow operates at almost full capacity, there is simply no room to reschedule the delayed flights."
Catterick Racecourse in North Yorkshire announced Wednesday's racing would be cancelled because snow and freezing ground made the track unusable.