Morecambe Bay trust to hold inquiry into baby death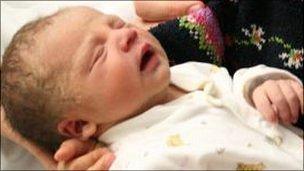 A hospital trust is to carry out an internal inquiry into a baby's death and its failing maternity services in Lancashire and Cumbria.
Police are already investigating the University Hospitals Morecambe Bay Foundation Trust after the death of Joshua Titcombe, of Dalton.
He died nine days after his birth at Furness General Hospital in 2008.
Now the trust is to hold a new inquiry because it was "not satisfied" with the findings of previous reports.
Cumbria Police is currently investigating the death of Joshua and other baby deaths at Furness General in Barrow, and the new investigation will begin when this has concluded.
Police were called in after the inquest into Joshua's death in June 2011.
It ruled that he died of natural causes, but midwives had repeatedly missed opportunities to spot and treat a serious infection.
Sir David Henshaw, chairman of the hospital trust, said that an independent internal inquiry into "failings" leading up to 2011 would be carried out into into maternity and neonatal services.
He said: "The board was not satisfied with the previous reports produced, but felt it prudent to wait for the police investigation to progress to a more advanced stage before proceeding.
"The inquiry will also review the findings reached in earlier reports commissioned by regulators and progress made in meeting the recommendations made in those reports."
He said the findings of the inquiry would be made public.
Sir David added: "While good progress has been made in improving safety and standards of care across our maternity units, there is still much to do to ensure their sustainability well into the future.
"It is important that the trust and the wider NHS is able to learn from its previous failings as they can never be allowed to happen again."
Related Internet Links
The BBC is not responsible for the content of external sites.