Disruption for Southeastern and Southern commuters continues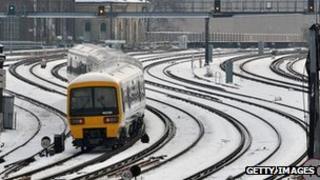 Rail companies in the South East have warned of a sixth day of disruption for commuters due to the icy weather.
Southeastern cancelled more than a dozen early morning services in order to use the carriages on other trains to reduce the likelihood of failure.
Southern said several of its trains had been damaged by snow and water meaning some services were cancelled while others would have fewer carriages.
Two Eurostar trains have also been cancelled because of the weather.
The rail operator also warned that weather-related speed restrictions were adding 15 to 45 minutes to all journey times.
Rail passengers have been advised to check their operator's website before travelling.
Weather forecasters have said there is an end in sight to the wintry weather, with milder, wet and windy weather expected at the weekend.