Selfridges and Sussex farmer face raw milk prosecution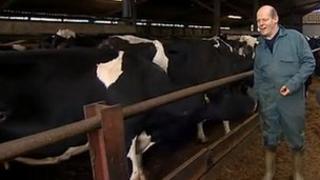 A farmer and Selfridges are to be prosecuted for selling raw milk, the Food Standards Agency (FSA) has said.
The FSA said it followed a detailed investigation, after vending machines dispensing unpasteurised milk were installed in the London store in 2011.
Summons have been served on Selfridges Retail Ltd and the Sussex farmer who supplied the cows' milk, Stephen Hook, of Longleys Farm, Hailsham.
Both parties are accused of breaching food hygiene regulations.
In a statement, the FSA said a hearing had been set for 6 February at Westminster Magistrates' Court.
The case was not linked to a current review of rules governing the sale and marketing of unpasteurised drinking milk and cream in England, Wales and Northern Ireland, it said.
In those countries unpasteurised cows' milk can only be sold direct to consumers from farms or the farmer, including farmers' markets.
The sale of unpasteurised cows' milk is banned in Scotland.
A Selfridges spokeswoman said: "We do not believe that we have committed any offence.
"As this matter is subject to legal proceedings, we are unable to comment further at this stage."