Warrington IRA bombs victims invited to anniversary ceremony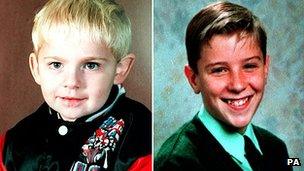 The surviving victims of a terrorist attack in Warrington which killed two children are being asked to join in a ceremony marking its 20th anniversary.
Johnathan Ball, three, and Tim Parry, 12, were killed and 56 others injured by two IRA bombs on 20 March 1993.
Warrington Council has asked those injured to be part of a "community reflection event" on 16 March.
Leader Terry O'Neill said it would be a chance to "celebrate how we have remained united and moved forward".
The event will take place at The Tim Parry Johnathan Ball Foundation's Peace Centre. The foundation supports the victims and survivors of political violence.
Chief executive Nick Taylor said he wanted to "invite people who were affected by the bombing to come together to reflect not only on the events of that day, but also how it has shaped our lives in the years following".
The two bombs, which exploded within a minute of each other, were planted in litter bins on Bridge Street, the first outside a Boots store and the second outside a McDonald's.
They went off while the area was crowded with shoppers, meaning that on top of those who were injured, many others were left traumatised by witnessing the explosions and the aftermath.
Mr O'Neill said it was "important that everyone in the town has the opportunity to come together in commemoration on Bridge Street or at the Peace Centre".
"It means a lot to us to reach out to residents and those directly affected to invite them to join us," he said.
"We will never forget what happened but we must also come together to celebrate how we as a community have remained united and moved forward together."
Related Internet Links
The BBC is not responsible for the content of external sites.