Isle of Wight £90m cocaine yacht trial: Piotr Pachnia guilty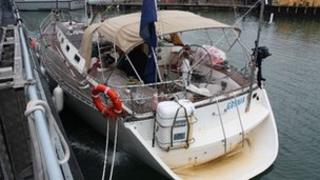 A man has been found guilty of possessing £90m of cocaine found hidden on a yacht off the Isle of Wight.
Piotr Pachnia, 33, was convicted by a jury at Portsmouth Crown Court of being in possession of 452kgs (996 lbs) of the class A drug after a two-day trial.
Thomas Dylik, 48, captain of the yacht Baila where UK Border Agency officers found the haul in June last year, has already admitted the same charge.
The seizure was one of the largest ever in the UK, the agency said.
Pachnia, of no fixed abode, and Dylik were arrested after UK Border Agency officials found the cocaine during a search of the vessel at Portsmouth Naval Dockyard.
Swab tests
Three officers had earlier boarded the yacht when it entered UK territorial waters having sailed from the Caribbean.
They had tracked the vessel for about 24 hours from waters off the coast of Plymouth until it was 11 miles (18km) south of St Catherine's Point on the Isle of Wight.
The officials then escorted Baila to Portsmouth amid suspicions illegal drugs could be hidden on board. Three swab tests had revealed traces of illegal substances.
On searching the yacht officers discovered more than 470 packages and cylinders of cocaine.
The cocaine, which had an average 90% purity, was found behind false walls, hidden in compartments and a holdall.
The yacht has since been forfeited and an order has been made for the cocaine to be destroyed.
Judge Susan Evans commended UK Border Agency officers, who she said conducted the Operation Pareto investigation with "great thoroughness."
She is to write a certificate of commendation to those involved in "preventing this enormous amount of cocaine from ending up on the streets of this country or any other European country".
A confiscation hearing will be held at a later date to recoup any money the men made through criminal activity.
Dylik is registered to an address in Lask, Poland, but the UK Border Agency said he had been living on his yacht "for a number of years".
The pair are due to be sentenced on 30 January at Winchester Crown Court.