Music teacher Michael Brewer 'was in love with teen'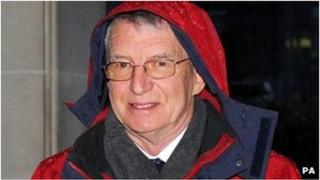 A choir director accused of raping a former pupil told a jury he fell in love with another teenage student when he was 49 and she was 17.
Michael Brewer, 67, who was awarded an OBE for services to music, left Chetham's School of Music in Manchester in 1994 when the affair was discovered.
He told Manchester Crown Court he was "desolate" when she had ended their relationship.
Mr Brewer, from Selly Oak, Birmingham, denies rape and indecent assault.
Prosecutors said his relationship with the 17-year-old was part of a pattern which showed his unhealthy interest in girls in their early and mid-teens while he was the school's director of music.
Speaking to the court on Wednesday, Mr Brewer confirmed he had been in love with her in the autumn term of 1994.
He said he had told the girl's mother about his feelings for her but he said he "effectively committed suicide" as the mother recorded their phone conversation and then passed it on to the head teacher.
When called to see the head he decided to resign on the spot. "I had to go," he said. "It would have been dishonourable to do anything else."
Mr Brewer is accused of committing a string of indecent assaults against an underage girl at Chetham's more than 30 years ago and is also said to have raped her when she was 18 in the presence of his ex-wife, Hilary Kay Brewer, also 67.
Mrs Brewer, of Knowl Gap Avenue, Rossendale, Lancashire, is also on trial and denies aiding and abetting the rape and committing a separate indecent assault on the alleged victim.
The court heard Mr Brewer started work at Chetham's in 1975 and after leaving he continued to serve as the music director of the National Youth Choir, a post he held until this court case.