Police officers sue forces over forced retirement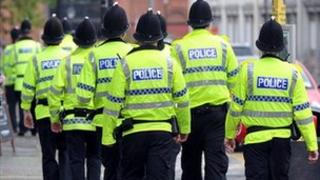 Five police forces are to be taken to an employment tribunal accused of age discrimination.
The tribunal will hear cases on behalf of more than 250 former officers over "Regulation A19", which compels those who have served 30 years to retire.
Claims are being brought against the Nottinghamshire, West Midlands, Devon and Cornwall, North Wales and South Wales forces.
The officers involved are seeking compensation for unfair dismissal.
It is understood some may also ask to be reinstated.
'Vigorously oppose claims'
The case is being brought by three parties - Nottinghamshire Police Federation, Devon and Cornwall Police Federation and the Police Superintendents Association of England and Wales (PSAEW).
The Nottinghamshire federation is bringing two to three test cases on behalf of 153 former officers, while Devon and Cornwall has a similarly small number of test cases for 86 of its members.
The PSAEW said it would bring test cases against all five forces on behalf of 22 superintendents and chief superintendents.
As crown servants police officers cannot be made redundant, but under the A19 regulation they can be retired on the grounds of efficiency.
It has been used by several forces facing significant funding cuts.
Phill Matthews, chairman of Nottinghamshire Police Federation, said: "This is a wholesale, indiscriminate way of making large swathes of the workforce redundant with no compensation other than their pension, which they are entitled to anyway, to fall back on.
"This is age discrimination. We're saying that the force has used the regulation to balance its books rather than for the individual efficiencies that it was designed for."
Nottinghamshire Police said it would "vigorously oppose the unfair dismissal claim", while North Wales Police said it was not in a position to comment because proceedings were under way..
The tribunal is due to take place in Croydon on 11 February.