Jobs at risk as Waterloo Housing Group closes offices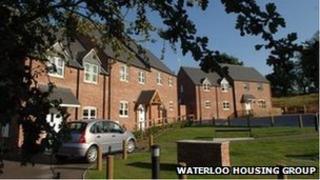 Jobs are expected to be lost when a group of housing associations centralises its "back office" staff.
Waterloo Housing Group has housing associations based in Lincolnshire, Leicestershire and the West Midlands.
It is closing all but two of its existing offices and plans to base back office staff in a new business centre in Solihull, in the West Midlands.
A spokesperson for the group said staff were being consulted over their jobs, and some could relocate.
The group's chief executive David Pickering said: "We feel that it is now the right time to bring all of our 'back office' functions together in one location to provide consistent support to the frontline services to customers."
Waterloo Housing Group currently employs about 430 people.
It has bought office premises at Birmingham Business Park, in Solihull, which will become its new business centre.
Working from home
The group plans to relocate some of its teams to the new business centre from late May or early June, and the centre is intended to be fully operational by 31 December.
The back office staff affected include human resources, finance and call centre workers.
Frontline staff, such as housing officers, will work from the remaining offices and from home.
The group's head office in Oadby, Leicestershire, is to close but the de Montfort Housing Society office in nearby Leicester will stay open.
The New Linx Housing Trust office in Louth, Lincolnshire, will stay open but the office in Skegness, Lincolnshire, will close.
The Waterloo Housing Association and Waterloo Homes offices, both in Sutton Coldfield, West Midlands, will close.
A spokesperson said the service for tenants was likely to improve because frontline staff would be out in their communities more.