Bestival's Rob da Bank weather fears for future UK festivals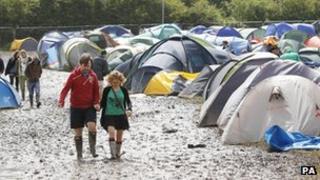 The promoter of Bestival in the Isle of Wight fears for the future of many UK festivals if there is a repeat of the wet summer.
Rob da Bank said potential festival-goers could be put off by the rain and muddy conditions at outdoor events.
Heavy rain led to traffic chaos at the Isle of Wight Festival in June, while Guilfest in Surrey went into administration after poor ticket sales.
Mr da Bank warned of "bigger problems selling tickets" if 2013 is as wet.
'Hardcore festival goers'
"We need a good healthy, sunny year for people to get their confidence back in UK festivals.
"The festival market has changed so much - there are people who go to festivals now that aren't really hardened festival-goers, they are families or people who think festivals are all the rage and want to try one.
"If they go to a really wet one, that's probably enough to put them off for life.
"There's only so many hardcore festival-goers to go round. That's what I'm worried about if there is another year of sustained rubbish weather."
Last year's weather proved particularly costly for the organisers of festivals which rely on on-the-day ticket sales.
Scotty Events, organisers of July's three-day Guilfest in Surrey, went into liquidation two months after suffering the worst weather conditions in its 21-year history, which turned Stoke Park in Guildford into a quagmire.
Whether a bit of mud is just part of the festival experience, or if a repeat of the 2012 summer will lead to a decline in attendances is yet to be seen.
First-time festival-goer Fiona Gregory from Surrey was stuck overnight with her teenage children trying to get to the Isle of Wight Festival.
"It left a bad feeling as you pay a lot of money for the tickets - obviously you don't know what the weather is going to be like.
"It wouldn't put me off going to another festival, but I'd certainly think twice about going to another one on the Isle of Wight - there is a lot of sea between you and home."
'Comfy camping'
James Shepard, organiser of Larmer Tree in Dorset, said last summer had been the wettest in its 23-year history, and they had been forced to use contingency funds to cope with the conditions.
He said more hard trackway would be laid at the rural garden venue following 2012's experiences but ticket sales had so far not seen a dip.
"Very few festivals sell out that quickly, as they did 10 or 15 years ago - the main reason for that is the economy," he said.
Larmer Tree has also followed the trend of offering more "comfy camping" holiday options to appeal to the family market wanting a more weather-proofed festival experience.
"Every year throws up its challenges - this year will be no different," he said.
Meanwhile Isle of Wight festival organiser John Giddings admitted he needed to do more to cope with "freak" weather in future.
Traffic queues caused ferry companies to suspend their services and about 600 people were stranded on ferries on the Solent.
"We knew it was coming, we prepared for it but all our actions weren't enough."
He said the disruption added £250,000 to the cost of the 2012 festival and the same amount is being spent on improvements to car parks, entrances and exits in time for June's event.
"I will never allow that situation to happen again, otherwise I'd never do this event again.
"It's a lot of money but I've always said I'll do this event until the cows come home, as long as I don't lose money," he said.
A Met Office spokesman said last year saw the highest rainfall for 100 years and the summer was "exceptionally wet".
But, he added, it would be "exceptional to see two such years after each other, but the weather is governed by natural variability and you can't draw any conclusions about one year from the previous one".