East of England Ambulance Services introducing 15 vehicles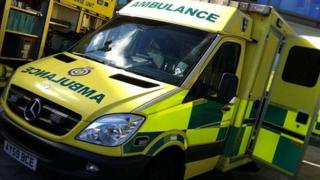 The East of England Ambulance Service (EEAS), criticised in the past over response times, says it is introducing 15 extra ambulances from Monday.
The announcement follows a review in response to patient and staff feedback to identify where more double staffed ambulances might be needed.
Earlier this week MPs met members of the Care Quality Commission (CQC) over concerns about EEAS response times.
EEAS is also recruiting 75 new paramedics and 124 care assistants.
An EEAS spokeswoman said: "The vehicles themselves aren't brand new but already exist within the fleet just not being used full time so it's more about rotas getting another vehicle in.
"There will be a cost implication with staffing but the finer details of that haven't been worked out yet and when we have the new recruits on board that will be more efficient than paying staff overtime.
"The cost will come out of existing budget sources however."
The ambulance service trust's interim chief executive Andrew Morgan said: "After reviewing the situation and listening to patient and staff feedback it became clear that getting more double staffed ambulances out there was a priority that would directly benefit patients and reduce waiting times."
Increases welcomed
Unison's EEAS branch Secretary Gary Applin said: "We welcome the increase in double staffed ambulances.
"It will make things better for patients and staff."
The new ambulances will be based in Beccles, Chelmsford, Cromer, Dereham, Diss, Downham Market, Felixstowe, Huntingdon, Mildenhall, Peterborough, Potter Heigham, Saxmundham, Southend, Sudbury and Weeley.
The trust has faced criticism in recent months over failing to meet performance targets.
Earlier this week health minister and North Norfolk MP Norman Lamb said he had "real concerns" about how the East of England Ambulance Trust was run.
He was speaking after a meeting at Westminster on Monday between all the MPs in the eastern region and the Care Quality Commission (CQC).
The meeting was to discuss the results of the CQC investigation into the trust, due to be published in March.
Mr Lamb said he had not been reassured by the findings of the report.