South Central Ambulance Service delays 'highest on record'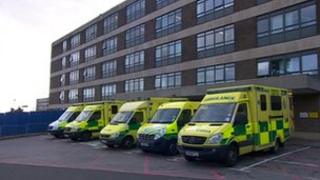 Crews from South Central Ambulance Service (SCAS) are queuing longer than ever to hand over patients at A&E.
The situation poses a "threat to patient safety", directors of the service have said.
Figures obtained by the BBC show that delays have tripled at Milton Keynes General, and doubled at the Queen Alexandra in Portsmouth, compared with the same period last year.
At Wexham Park Hospital in Berkshire, delays went up by more than a third.
Ambulances spent 1,984 excess hours queuing at hospitals in December, which equates to "parking up" 2.7 ambulances for the whole of the month.
'Slow to react'
Fizz Thompson, director of patient care at SCAS, said: "Sometimes our ambulances can wait perhaps up to an hour or two hours because of the problems with patient flows.
"If we have got ambulances queuing at hospitals it makes it more difficult for us to get to patients."
When queues form paramedics have to look after patients on trolleys along hospital corridors.
"It's concerning because our staff want to get to patients and give them really good care," Ms Thompson added.
"It adds more stress onto them having to look after patients in a queue."
In preparation for winter pressures SCAS invested additional money on front line crews to try to keep response times up.
However, it still missed targets for getting to emergency 999 calls in time from October to December.
In West Oxfordshire in December, for the most urgent "Red8" emergencies, ambulances managed to reach patients in the eight-minute target for 53% of the time. The national target is 75%.
The Department of Health says that ambulances should be able to hand over patients within 15 minutes of arriving at A&E.
It has advised that a "zero tolerance" approach should be taken to delays.
SCAS board member Keith Nuttall said he found it "unacceptable" that in some cases hospitals were "slow to react" when it came to the escalating problems.
'Struggling system'
The Queen Alexandra Hospital was the hospital with the highest recorded delays in December.
"We have unprecedented demand at the front door," said Dr Simon Mullet, a senior manager at the A&E department.
"Sometimes we can have six ambulances arrive in 10 minutes, and under those circumstances we struggle to keep up and that's the major problem.
"The demand has gone up, the system is struggling.
"Internally we're having additional nurses at the front door to try and take over. Within the system we're doing everything we can to try and minimise waits.
"There's a serious issue in the NHS with the demand for emergency services. Really, really big.
"I think some serious investment is required at the front door."
The SCAS board has been considering whether crews should simply "withdraw from the scene" once the 15-minute period has expired.
Managers decided not to do this as it would compromise patient care, but said this course of action was still potentially open.
In the event of a major incident if queues were to increase the service says it could use larger "bariatric multi-cot" ambulances to keep patients waiting in, or set up marquees outside A&E departments.
'Rapid assessment'
Heatherwood and Wexham Park Hospitals NHS Foundation Trust admitted it was experiencing "significant pressure" on its A&E department.
Philippa Slinger, chief executive, said: "We are doing all we can to deliver prompt attention and treatment to our patients, and their care and safety remains our highest priority at all times.
"Doctors in A&E are now working later into the evening and have increased their on-call availability to enable more patients to be seen and receive the appropriate treatment as quickly as possible.
"Although we had planned for an increase through winter, the number of very sick patients being received is more than anticipated."
The trust is adding 28 beds in March, as well as spending £3 to 4m on remodelling the department to help "patient flow".
Darren Leech, chief operating officer at Milton Keynes Hospital, said: "Like most other hospitals, Milton Keynes is currently receiving very high numbers of patients arriving via ambulance.
"The hospital is committed to ensuring that every patient is seen by the right clinician as quickly as is possible. We are currently piloting a rapid assessment model to ensure that our urgent cases are seen quickly.
"This model is already seeing an improvement in handover times which we are continuing to work on."