Airport boss calls to expand Sussex and Essex airports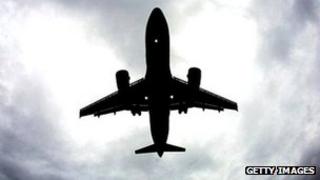 A proposal to expand Gatwick and Stansted airports so they can compete with Heathrow has been put forward by Gatwick Airport's chief executive.
Stewart Wingate said both the airports in West Sussex and Essex should expand.
The plan would see three airports of a similar size competing with each other and spreading the economic benefit and environmental impact, he said.
But anti-expansion campaigners said the South East had enough air capacity and demand should be spread across the UK.
Several plans have been put forward to increase air capacity in London and the South East including expansion of Gatwick, Heathrow, and regional airports.
There are also three plans to build airports in the Thames Estuary off Kent, and a proposal to build a four-runway airport on Goodwin Sands near Deal.
'Noise and disturbance'
Mr Wingate said: "What we're promoting is a model which sees the airports of the South East competing with one another.
"What that means for us is a second runway going into Gatwick and subsequently a second runway going into Stansted."
But John Byng, vice chairman of the Gatwick Area Conservation Campaign, said the prospect of a second Gatwick runway was "worrying" and added: "It will create much more noise and disturbance for local people."
He said: "There are lots of services that would be further overstretched by the expansion of Gatwick and what's more it's not needed.
"There is plenty of capacity in the South East for the flights that are needed. There isn't an airport in the country that's full except Heathrow.
"We ought to be spreading the load of aviation around the country better and certainly the one area of the country that doesn't need more employment of the sort that the airport provides is the South East."