Is it all over for Cumbrian nuclear waste store plans?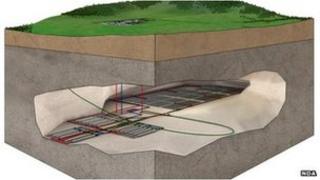 For the second time in 14 years the hunt for a long-term solution to Britain's nuclear waste stockpile seems to have foundered in Cumbria.
In 1999 Cumbria County Council rejected plans for a rock laboratory that could have paved the way for an underground nuclear waste store.
And now the same council has again withdrawn as a potential site for a repository.
Cumbria's decision
The majority of the council's executive decided the county wasn't suitable.
The government has also said it accepts Cumbria's decision and will look elsewhere.
So is it all over?
Apparently not. Copeland Council - the Cumbrian district that includes Sellafield - did vote to enter what was called Stage 4 of the search for a site.
As the junior planning authority, that acceptance is trumped by the county council's rejection.
But now there is talk of Copeland going it alone.
The council leader has written a joint letter to the government with her counterpart in neighbouring Allerdale.
Councillor Elaine Woodburn wants an urgent meeting with the government to discuss whether there may still be a way of continuing to look at West Cumbria as a potential site for an underground store.
In the letter she says: "We have had a very clear and evidenced mandate from the communities we represent that entering Stage 4 was the right thing to do.
"The fact Cumbria County Council never heeded the majority of West Cumbrians' views and voted no, does not resolve the question over what to do with the nuclear waste in the long term."
Moral case
The local MP Jamie Reed also seems determined that West Cumbria can press on.
He said: "There is an unprecedented cross-party mandate for this, an undeniable environmental and moral case and an overwhelming economic case for taking this issue forward. Most importantly, doing so is in the best interests of the people of Copeland and West Cumbria.
"This work will be taken forward quickly."
And he's also pointed out that the problem of the country's high level nuclear waste hasn't gone away.
It also remains a Cumbrian problem as 75% of it is stored above ground at Sellafield.
You can also imagine the government being pretty receptive.
No other community had come forward as a potential site, and no other community looks likely to.
And given West Cumbria's nuclear history it always seemed the best bet.
Safety concerns
The government also has to find a solution. It will be harder to justify new nuclear power stations if the country can't find a long term way of dealing with its existing waste problem.
And the current arrangements were criticised last year when a National Audit Office report raised concerns about the safety of storage of waste at Sellafield.
It talked about it being "housed in buildings which pose intolerable risks to people and the environment".
So it may be prepared to look at ways that Copeland could follow its own path.
The council could, for example, continue to investigate sites to see if the geology would be suitable for a waste store.
But even if that's possible - and legally Cumbria has officially withdrawn - it will be controversial.
This week's decision was influenced by an impassioned campaign by the Cumbrians who did not want to see waste buried in the county - and certainly not in the Lake District.
Much of the tourist industry was opposed and a petition signed by more than 20,000 opponents was gathered.
Bypass council
Even if West Cumbrians wanted to press ahead (and all we know now for definite is that their councillors do), much of the rest of the county could remain hostile.
And then there is the thorny matter of how you bypass the county council.
Under the current planning regime the county would have to give permission for any exploratory drilling, and it would certainly have to sanction any store. Copeland could do neither.
At some point there would either have to be a change in the law, or the government would have to override the local planning authority.
But this is a long-term game.
Even if Cumbria had said yes this week, a store would not have been built for decades.
If a way was found for investigations to continue, there could be a different set of councillors, maybe even different councils, by the time a new decision has to be made.
The government might also look again at what incentives it could offer to persuade Cumbria to press on.
Above ground storage
But some say it's time to rule out underground storage forever.
Martin Forwood, from Cumbrians Opposed to a Radioactive Environment, has accused Jamie Reed of petulance by insisting Copeland could plough on. He says improved above ground storage is the only way forward.
He said: "We will continue to oppose underground dumping anywhere in the UK.
"With significant blight from at least one major nuclear proposal now averted, Cumbria can now look forward to attracting non-nuclear inward investment and diversifying its local economy towards a safer and clean future for all its communities."
But despite that wish it does appear this story is far from over, and this week's "no" may not prove to be the end of a Cumbrian nuclear waste saga that's dragged on for more than 20 years.