Oxford exploitation trial: Girl's claims 'were not believed'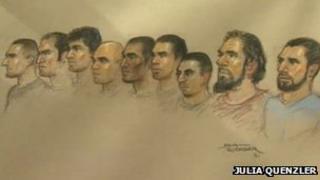 An alleged victim of a child sex ring has told a court her claims of abuse were not believed at the time.
Old Bailey jurors were told the woman, now in her 20s, was repeatedly raped and sold to other men for sex when she was between the ages of 12 and 15.
She is one of six alleged victims of nine men accused of grooming and exploiting children in the city.
The men, from Oxford and Berkshire, deny 51 counts relating to girls aged between 11 and 15 from 2004 to 2012.
Prosecutor Noel Lucas QC asked the woman, who cannot be identified for legal reasons, why she agreed to make a statement to police in 2012.
She told the court: "In all these years when I've dealt with many, many professionals, it was the first time I felt I was being believed and the first time people were going to do something about what had been going on in Oxford for a long, long time.
"[It was] an issue I believe may have been covered up - well not covered up - but people were not doing their jobs properly and reading between the lines and many, many people I think have suffered this kind of abuse.
"I decided to go ahead with it because I felt like I was finally being believed about what was happening to me. I want to see justice."
'See them punished'
The woman said she was repeatedly abused between 2004 and 2007.
She added: "Some pretty awful things happened to me in my childhood. At the time I did not feel people believed me. I did not feel anything was being done about it. There was a lot of self doubt.
"I know it did happen. Now I'm being believed I want to see the people who did that to me - and potentially did it to other people as well - punished for it."
The woman has been giving evidence to the court since 25 January.
Jurors have heard how she met three of the defendants, Kamar Jamil, Akhtar Dogar and Anjum Dogar, in Oxford while playing truant from school.
She said at first they were nice to her, but then she was expected to have sex with them and many other men, including defendant Assad Hussain.
She told the court her life had "moved on", and that she had since gained qualifications and a career, and no longer gets drunk or takes drugs in the way she did.
She said: "I live a decent life."
It had been "difficult" and "painful" to tell the court about the abuse, she added.
The trial is expected to last until April. The defendants, who are all in custody, are:
Kamar Jamil, 27, formerly of Aldrich Road, Oxford
Akhtar Dogar, 32, of Tawney Street, Oxford; and his brother Anjum Dogar, 30, of Tawney Street, Oxford
Assad Hussain, 32, of Ashurst Way, Oxford
Mohammed Karrar, 38, of Kames Close, Oxford; and his brother Bassam Karrar, 33, of Hundred Acres Close, Oxford
Mohammed Hussain, 24, of Horspath Road, Oxford
Zeeshan Ahmed, 27, of Palmer Road, Oxford
Bilal Ahmed, 26, of Suffolk Road, Maidenhead