Yorkshire M1 four-lane scheme 'could cost lives'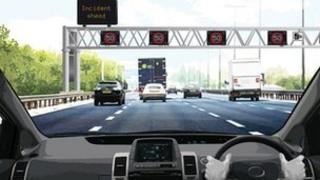 A £290m scheme to turn the hard shoulder into a fourth lane on parts of the M1 could cost lives, a senior police officer has warned.
The changes are to be made between junctions 32a and 35 in South Yorkshire and 39 to 42 in West Yorkshire.
But Ch Insp Stuart Walne, head of roads policing for South Yorkshire, has warned of "fundamental operational difficulties" with the scheme.
The Highways Agency said: "The M1 will remain at least as safe as it is now."
In a statement, the agency said: "The existing managed motorways schemes have not only improved reliability and eased congestion, but have also delivered significant safety benefits.
"Evidence from the M42 managed motorway scheme shows that personal injury accidents have more than halved, and there have been no fatalities in the five years it's been in operation."
Signage concerns
Asked during an interview on BBC Radio Leeds whether the scheme could cost lives, Ch Insp Walne replied: "Yes, I believe it will."
He added: "The scheme [on the M1] is not the same as the M42. We do not have the same experience of how it works.
"There are fundamental operational difficulties it presents that we don't have answers to at the moment."
And he warned that the signage planned for the scheme on the M1 "was not of the standard you have around the M42".
Jeremy Bloom, of the Highways Agency, said: "We've done a lot of assessment that shows we can operate this very safely indeed."
An exhibition about the West Yorkshire part of the project is open at the Cedar Court Hotel in Wakefield until 16:00 GMT.
The exhibition can also be seen at the Holiday Inn in Ossett next Friday and Saturday.