Barthomley villagers opposed to 1,000 new homes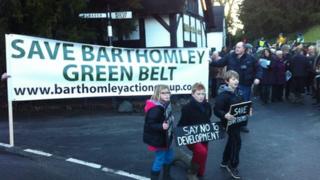 Residents in a South Cheshire village say they will fight plans to build 1,000 new homes in greenbelt land.
The proposed development at Barthomley, near Crewe, is on part of the Duchy of Lancaster estate.
Locals fear however, as many as 4,000 homes may be built as part of Cheshire East Council's plans, which also include a new primary school and shops.
The Duchy said the proposal was "in the very early stages" and would be subject to a public consultation.
Chair of Barthomley Action Group, Tom Wilde, said there were about 200 properties in the village at present.
'Create employment'
Mr Wilde said: "To then build 4,000 properties in the vicinity, and the traffic that that would involve, would just destroy the character of it completely.
"There are other areas that are brownfield sites in and around Crewe that would provide a similar amount of housing but without desecrating the greenbelt that Barthomley is surrounded by."
A statement released by the Duchy read: "As a major landowner in Crewe, the Duchy of Lancaster has met with Cheshire East Council to discuss ways in which the council may deliver its economic and housing growth agenda for the town, as part of the consultation for their new Local Plan.
"In response to these discussions, the Duchy has prepared a development proposal for consideration.
"This shows an outline proposal that is aimed at helping to provide new housing where it is needed, improve infrastructure and create employment.
"It is in the very early stages, and will be subject to extensive public consultation and discussions with our tenants and all stakeholders before it is finalised."
The council has said responses to its initial plans need to be made by 26 February.