Oxford exploitation trial: Girl, 13, 'self-harmed after abuse'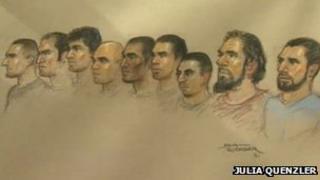 The mother of an alleged victim of a child sex ring has told a court her daughter would cut herself with razor blades to "take the hurt away".
Old Bailey jurors were told how she went from a "lovely, caring child" to being guarded, angry and argumentative.
The girl was one of six alleged victims of nine men accused of grooming and exploiting children in the city.
The men, from Oxford and Berkshire, deny 51 counts relating to girls aged between 11 and 15 from 2004 to 2012.
The mother, who cannot be identified for legal reasons, said when her daughter was 13 she would go missing for up to eight days at a time, returning home exhausted and "not really with it".
The woman told the court: "I said, 'What is it that is so bad that me and your dad can't help you?'
"It was very difficult. I felt that I was becoming a failing mother to my child."
'Lost soul'
Jurors have heard how her daughter met three of the defendants, Kamar Jamil, Akhtar Dogar and Anjum Dogar, in Oxford while playing truant from school.
The victim said she was abused between 2004 and 2007 when she was aged 12 to 15.
It is claimed she was given drink and drugs and made to have sex with men, including defendant Assad Hussain.
Her mother told the court her behaviour changed in a short period of time.
She added: "I was beside myself with worry. So much had been going on I couldn't make sense of. I was just so afraid for her, and I just wanted my little girl to be OK.
"There was nothing left of her, apart from aggression when we tried to question her about anything. There was no emotion left in her whatsoever.
"She didn't laugh, she certainly didn't cry. I was so desperate for her to start crying and let go. She seemed totally like a lost soul. There was nothing there at all."
The trial is expected to last until April. The defendants, who are all in custody, are:
Kamar Jamil, 27, formerly of Aldrich Road, Oxford
Akhtar Dogar, 32, of Tawney Street, Oxford; and his brother Anjum Dogar, 30, of Tawney Street, Oxford
Assad Hussain, 32, of Ashurst Way, Oxford
Mohammed Karrar, 38, of Kames Close, Oxford; and his brother Bassam Karrar, 33, of Hundred Acres Close, Oxford
Mohammed Hussain, 24, of Horspath Road, Oxford
Zeeshan Ahmed, 27, of Palmer Road, Oxford
Bilal Ahmed, 26, of Suffolk Road, Maidenhead