Epsom Downs Racecourse plaque for suffragette Emily Davison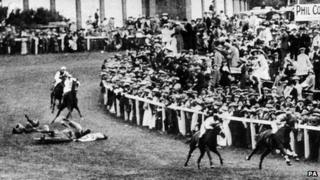 A plaque is to be unveiled at Epsom Downs Racecourse in Surrey in memory of a suffragette who stepped in front of the king's horse in 1913.
Emily Davison ran out in front of King George V's horse as it ran in the Epsom Derby on 4 June that year.
She suffered injuries that led to her death four days later in hospital.
A spokesman for the racecourse said the plaque would be unveiled in a private ceremony in April with Davison's family to mark the centenary of her death.
Centennial events
He said the racecourse had been working closely with the Emily Wilding Davison Working Group, an organisation that worked to keep the suffragette's legacy alive.
Other events are being planned to take place in Morpeth, Northumberland, where Davison is buried, over the centennial weekend in June, he added.
The militant votes-for-women campaigner was frequently arrested for acts that included causing public disturbances and burning postboxes. She served several jail terms.
She died five years before voting rights were given to women over 30 and 15 years before women were granted equal voting rights with men.