Horden shootings relative to meet shadow home secretary Yvette Cooper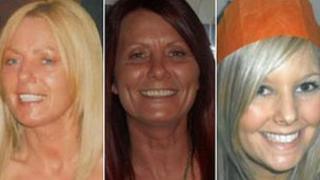 A relative of three victims of a shooting rampage is meeting the shadow home secretary later to discuss his campaign to change gun laws.
Bobby Turnbull lost his mother Alison, sister Tanya and aunt Susan McGoldrick, when Michael Atherton killed them at a house in Horden, County Durham, before shooting himself.
Mr Turnbull will speak to Labour MP Yvette Cooper in London.
He wants gun licence applicants to undergo more stringent vetting.
'Right candidate'
Atherton, 42, legally owned six weapons but a report by the Independent Police Complaints Commission (IPCC) found his violent past had not been properly investigated.
The IPCC said Durham Police was aware of a number of domestic and alcohol-related incidents which "should have cast doubt" on his suitability to hold firearms.
No evidence was found to warrant criminal action against any officer.
Mr Turnbull has started a petition calling for a change in the law and hopes to win support from Ms Cooper and other MPs.
He said: "The campaign is asking for better cooperation between police and the medical profession so when an applicant applies for a gun licence they know whether they're the right candidate.
"It's asking for anyone who has got criminal convictions for domestic violence, abuse, or anything like that, to be banned from owning firearms."
The British Association for Shooting and Conservation believes rather than passing new laws, the emphasis should be on making sure existing legislation is properly applied.
An inquest into the deaths is due to open on 3 March.