Lucian Freud sketches put up for sale by Maggi Hambling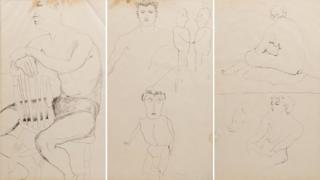 Three sketches drawn by Lucian Freud while he was a student and later given to the artist Maggi Hambling are being sold at auction.
Hambling was given the life drawings by Cedric Morris, who taught her and Freud at different times as part of the East Anglian School of Painting and Drawing.
"He thought that artists should have some of the other artists' work," Hambling said.
The sketches are being sold at Reeman Dansie in Colchester on Wednesday.
Hambling, best known for her sculpture of a scallop on Aldeburgh beach, said she had enjoyed the drawings but thought "perhaps someone else would like them".
They have not been on display and "not very many people have seen them".
She said: "I do believe in art going about, it's terrible when Van Goghs are locked up in banks. Art is for looking at."
Hambling said Freud probably drew the models in the 1940s in Dedham, Essex.
Freud was born in Berlin in 1922 and fled to Britain with his Jewish family in 1933, when he was 10.
He died in 2011 at the age of 88, having become one of Britain's most distinguished and highly regarded artists.
A year before his death, one of his works on paper, Boy on a Sofa, fetched £1.49m at auction.
The sketches being sold by Hambling have been valued by the auctioneers at £4,000-£10,000 each.
Hambling is currently working on an installation based on Benjamin Britten's War Requiem, to be unveiled at Snape in the summer.