English seaside towns in £16m regeneration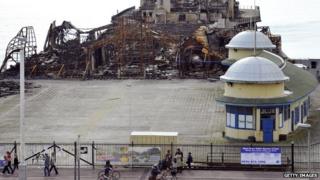 Twenty seaside towns are sharing nearly £16m of government cash to spend on job creation and environmental improvement.
Whitby Business Park in North Yorkshire is getting £2.6m for improvements and Seaburn in Sunderland is getting £2m to regenerate the historic seafront.
Hastings in East Sussex gets £1.2m for a restaurant at the pier amid plans to rebuild the fire-hit attraction.
Communities Secretary Eric Pickles said the funding would "probably" create about 4,000 jobs.
The Coastal Communities Fund was created in 2012 to boost coastal areas which had suffered "decades of economic decline".
The money comes from the Crown Estates which owns the rights to fish farms, wind farms, ports and marinas.
'Shot in arm'
The fund's creation followed concerns that many young people had moved away from coastal areas due to a lack of job opportunities.
Mr Pickles said: "It's a really exciting announcement. What we are talking about is putting an extra £15.5m into our coastal towns.
"We are rewarding really good schemes and it's going to create probably about 4,000 jobs
"Some of those are going to be training places as well.
"This is going to make a very big difference."
The 20 successful winners and their fund allocations are:
£2.6m to develop Whitby Business Park, North Yorkshire
£2m to regenerate the promenade and seafront in North Tyneside
£2m to regenerate the historic seafront in Seaburn, Sunderland
£1.5m to complete the reinstatement of a railway service between Wareham and Swanage in Dorset
£1.4m for new businesses in Torbay, Devon
£1.2m to establish a restaurant/food court at Hasting Pier
£800,000 to develop the North York Moors heritage railway service linking Whitby to the North York Moors National Park
£670,000 to regenerate the waterfront in Plymouth, Devon
£600,000 to support businesses in Great Yarmouth, Norfolk
£580,000 for heritage trail and business support at Redcar and Cleveland
£500,000 towards improvements at Clevedon Pier, Somerset
£500,000 to redevelop the quayside at Port of Blyth, Northumberland
£490,000 to stimulate economic growth in Morecambe Bay, Cumbria and Lancashire
£450,000 to support the local fishing and seafood industry in South Hams, Devon
£350,000 to allow the Marlowe Innovation Centre in Ramsgate, Kent to more than double its accommodation
£200,000 to support modernisation of businesses in Lincolnshire coastal communities
£150,000 to Lynton and Barnstaple Railway, Devon to buy new rolling stock
£150,000 to develop the Porthcurno Telegraph Museum in Cornwall
£100,000 to support the Wadebridge Renewable Energy Network, Cornwall
£100,000 to support social enterprise, training and skills at Porthleven, Cornwall.
Swanage Railway Company has been campaigning since 1972 to reinstate the Wareham to Swanage link.
Chairman Peter Sills said he was "elated" over the £1.5m cash injection.
Tudor Evans, leader of Plymouth City Council said the £670,000 to regenerate the waterfront from the Royal William Yard to the Barbican was a "massive shot in the arm" to the area.
He said: "This will bring it back to bustling life and support the businesses down there that have been eking out a living."