Confirmed cases of measles in North East tops 80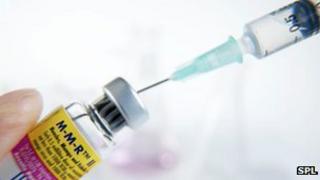 The number of confirmed cases of measles across the north east of England is continuing to rise, according to health officials.
The Health Protection Agency (HPA) has already declared the outbreak as one of the worst in recent years.
Since September there have been 73 suspected and 82 confirmed cases, compared to just 18 confirmed in 2011.
A spokesman for the HPA said 46% of the confirmed cases (38) had required hospital treatment.
The agency said most of all the cases were in unvaccinated school children and young adults, with more than 50% aged between 10 and 30.
Babies at risk
The spokesman described the outbreak as "very serious" and warned further confirmed cases were likely.
Julia Waller, immunisation lead for the HPA, added: "Measles is highly infectious and unvaccinated children and adults who haven't had it before are at risk when it is circulating, as it is now in this region.
"Furthermore, if they become ill with measles they could also be a risk to people who are not able to be immunised, such as babies who are too young to be vaccinated.
"There is no treatment for measles, but it can be prevented by the MMR vaccine and two doses are required to ensure the best protection.
"We are urging parents to make sure that their children are fully immunised and have had two doses of the jab."
The most common symptoms are fever, cough, sore eyes and a rash that develops three or four days after the onset of illness, starting with the face and head and spreading down the body.