Driver Jasminder Singh Dhesi jailed over M5 fatal crash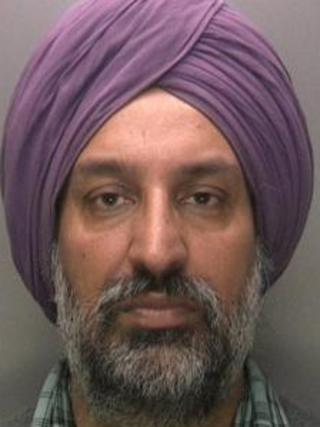 A coach driver admitting causing the deaths of two people in a crash with a lorry on the M5 motorway has been jailed for six years.
Jasminder Singh Dhesi, 50, of Nether Hall Avenue, Great Barr, last month pleaded guilty to causing the deaths by dangerous driving on 24 March.
Passenger Liaquat Ali, 35, of Smethwick, died in the crash between junctions three and four last March.
Lorry driver William Mapstone, 65, from Somerset, later died in hospital.
Dhesi was also disqualified from driving for four years, to take effect from his release from prison.
The court heard Dhesi had been drinking high-strength lager before his un-roadworthy coach broke down three times on the motorway in the fog on 24 March.
The coach, which was carrying 34 passengers, was eventually hit by a heavy good vehicle.
The single-decker bus was carrying fruit pickers from Birmingham to Evesham in Worcestershire.
Birmingham Crown Court heard Dhesi failed a roadside breath test after the crash and was found to have 46 micrograms of alcohol in 100 millilitres of breath - above the legal limit of 35 micrograms.
But a test carried out a police station two hours after the crash gave a reading just below the legal limit and Dhesi was not charged with drink-driving.
At the sentencing hearing at the court, it emerged Dhesi was fined for drink-driving 12 years ago after falling asleep and crashing a bus into another vehicle.
'Grave decision'
Passing sentence, Judge Michael Chambers QC expressed concern as to whether the father-of-two was remorseful for his actions.
Judge Chambers said the accident on the southbound carriageway near Frankley Services had been entirely avoidable.
"Travelling on the motorway as you did clearly caused a substantial risk to other road users and also the passengers on your bus," he said.
"The aggravating features are the degree of risk that you created, having regard to the road conditions and the size of your vehicle, and that two deaths have been caused.
"There is also an aggravating feature in that you were driving under the influence of alcohol."
The judge said it could be "safely inferred" two hours previously Dhesi would have been over the legal limit.
"At the root of the present case is a serious loss of judgment - alcohol impairs judgement," he added.
Rukshsana Mohammed, from the West Midlands Crown Prosecution Service, said Dhesi was an experienced driver employed to ferry workers to a food packaging plant.
"It was his duty to ensure that the vehicle he was using was roadworthy and in a suitable condition to be used on the public road network," he said.
"Any prudent driver would have been aware that to continue driving a faulty vehicle on to the motorway was dangerous and instead they should have stopped and sought assistance.
"However, Dhesi made a grave decision to continue the journey and he drove the coach onto the motorway where it broke down a further two times.
"He managed to restart the vehicle and on its third and fatal breakdown, the coach came to a standstill next to a footbridge where there was no hard shoulder and it was here, in poor visibility due to the fog, that the tragic incident occurred."