Fisherman's Friends' Trevor Grills dies after G Live accident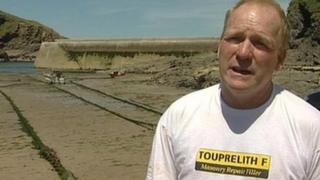 A Cornish shanty group singer injured in a music venue accident has died.
Fisherman's Friends singer Trevor Grills suffered critical injuries after being hit by a falling metal door at G Live in Guildford, Surrey, on Saturday.
The group said Mr Grills, 54, from Port Isaac, died of severe head injuries. He was described as a "much loved and valued friend".
Tour manager Paul McMullen, 44, from Disley in Cheshire, also died in the incident.
Fans' support
Police were called to the London Road venue just after 11:45 GMT on Saturday after a report that two men were trapped under a metal door in a loading bay.
The 10-piece group from Port Isaac were due on stage that evening.
Officers said Mr McMullen suffered serious injuries to his legs and died at the scene.
Mr Grills was taken by ambulance to St George's Hospital in south London.
The group said: "Trevor was a much loved and valued friend to all of us and was an integral part of the Port Isaac community.
"He will be sadly missed. Our thoughts are with Trevor's family at this very difficult time."
President of Island Records Darcus Beese added: "We are all deeply saddened at losing Trevor.
"The Fisherman's Friends are exactly that; life-long partners in all they do and our thoughts and prayers go out to them and Trevor's family and friends."
Members of the group gathered in Port Isaac on Monday to thank fans for their support after news of Mr Grills's injury spread.
'Special person'
However, his condition deteriorated and Surrey Police confirmed that he had died on Monday night at the hospital in Tooting.
Ian Brown, manager of Fisherman's Friends, told BBC News: "It's awful, he was a lovely man.
"It's a very close knit community in Port Isaac and we're just doing what we can to help the Fisherman's Friends and the families.
"Trevor was a very special person and will be sadly missed."
On the groups' Facebook page many people have started leaving tributes to Mr Grills.
Cate Bain wrote: "Our hearts are in Port Isaac right now and our love and deepest sympathy go to all the family and friends mourning such a terrible tragedy."
And Charlie Berman said: "Such an awful tragedy. Loss is something that fishing communities have long had to face but this is little solace at this moment. You must keep the music alive for him."
Mr McMullen has been called an "amazing man" by group Said The Maiden, which has worked with the singers.
"We feel honoured and grateful to have been able to work with him," said the group.
The Fisherman's Friends were given a £1m recording contract after being discovered by music industry bosses during a pub concert.
They have since performed at the Glastonbury Festival.
Ealing Studios is working on developing a film charting the rise of the a cappella group.
The Fisherman's Friends show was cancelled on Saturday night by G Live.
Venue director Alvin Hargreaves said he was "devastated" to hear of Mr Grills's death and said the venue team's "thoughts and prayers" were with the group and their families.
Guildford Borough Council, which owns the building, said it "expresses its condolences and sympathy to all involved".
Surrey Police and the Health and Safety Executive are investigating the incident.