Dale Cregan trial: Witness 'got one-eyed Scotchman threat'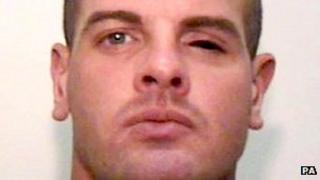 A woman giving evidence in the trial of Dale Cregan said she was threatened that if she spoke to police the "one-eyed Scotchman" would kill her.
The witness, not named for legal reasons, told Preston Crown Court she believes it was a reference to Cregan.
Cregan, 29, has admitted murdering PCs Fiona Bone, 32, and Nicola Hughes, 23, in Greater Manchester last September.
He remains on trial accused of the murders of David Short 46, and his son Mark, 23, which he denies.
Clothes found
One of Cregan's co-accused, Damian Gorman, 38, is alleged to have been involved in the murder of Mark Short and the attempted murder of three others at the Cotton Tree pub, on 25 May last year.
The woman who gave evidence via videolink, told the court she was threatened after the shootings took place.
She told the jury that, on the night Mark Short was killed, she saw Mr Gorman outside her house with two other people and the following day, she found clothes dumped in a garden next to her home.
She claimed Mr Gorman later slapped her across the face and warned her not to speak to police about the murder of Mark Short.
"He said, 'Be careful because you don't want the one-eyed Scotchman coming to [your] door'... If I said anything to the police," she said.
She said he pulled his finger under his chin and across his throat and told her: "You don't want to die and you don't want your kids to die."
"He was always threatening me. The message he gave me was clear," she added
Mr Gorman, from Glossop is accused of the murder of Mark Short along with Cregan, of no fixed address, Leon Atkinson, 35, from Ashton-under-Lyne, Luke Livesey, 27, from Hattersley, Ryan Hadfield, 28, from Droylsden, and Matthew James, 33, from Clayton.
Explosion charge
They are also all accused of the attempted murders of three others also in the pub at the time - John Collins, Ryan Pridding and Michael Belcher.
All six defendants deny the charges.
David Short was murdered on 10 August last year at his home in Clayton, Manchester.
Accused of his murder are Cregan, Francis Dixon, 37, from Stalybridge, Anthony Wilkinson, 38, from Manchester, and Jermaine Ward, 24.
All four are also jointly accused of the attempted murder of Sharon Hark on the same day, and a single charge of causing an explosion.
They all deny the charges.
Mr Wilkinson is additionally charged with possession of a firearm with intent to endanger life and Mohammed Ali, 32, from Chadderton, Greater Manchester, is accused of assisting an offender.