Reliving Swan Hunter's darkest day 20 years ago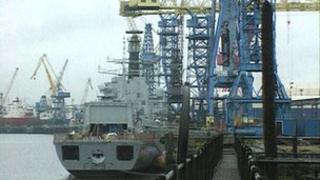 There was a palpable change in the atmosphere over Tyneside the day that Swan Hunter unexpectedly failed to win a Ministry of Defence order.
As a reporter on Look North I had been documenting the regular problems the yard had faced as its order book would seem to be depleting, only for another military warship order to restore its fortunes.
Why should this time be any different?
The regular highs and lows for the company seemed to make us immune from anticipating the worst would actually happen.
Swan Hunter had enjoyed a fantastic reputation for the quality of its workmanship.
One Royal Navy captain after another would champion his new command's inaugural performance at sea trials, or praise the yard to the hilt when a vessel returned to the port of its birth.
Receivers brought in
Imagine then, the shock when the crucial order for HMS Ocean was awarded to VSEL in Barrow.
Right up to the moment of the announcement insiders at Swans were confident they had done enough.
Instead the receivers were brought in.
Although the company name lives on, this was the day the final nail went into the coffin of shipbuilding on the Tyne.
There was utter consternation, not just amongst the workforce, but from local MPs, civic leaders, media and indeed an indignant population which had been rightly proud of the river's shipbuilding heritage.
I have just watched a report I did for that evening's news. I've put it online for you to see as well.
What strikes me about it, is the way everyone look so deflated - dare I say it, even me.
The gravity of what had just happened was literally etched onto people's faces.
I was living in Wallsend at the time, so knew only too well what impact it would have on the community, near and far.
Shipyard silenced
Twenty years on, the Tyne is still a working river.
But the sight of a hull sliding down a slipway to the roar of heavy chains and a jubilant workforce is now just a memory. Something to enjoy in archive footage.
I returned to the yard in 2006 when the Pet Shop Boys performed their own soundtrack to the 1925 Russian film classic Battleship Potemkin.
It was something of a surreal experience for the sell-out crowd.
Twenty years on it still seems unreal that a yard that once hummed to the tune of massed hard labour has been silenced.
Inside Out North East & Cumbria can be seen on BBC One at 19:30 on Monday, 18 February, 2013