Cattle TB vaccine 'is years away', MP is told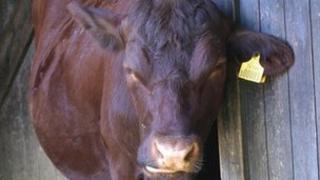 A West County MP has been told a vaccine for cattle against bovine TB is at least 10 years away.
Liberal Democrat MP David Heath said Defra officials are lobbying the EU to try to speed up the approval process.
At present the vaccination of cattle against bovine TB is forbidden under international and EU law.
Plans for a cull of badgers in west Somerset and Gloucestershire to try to reduce levels of bovine TB have been put on hold until the summer.
'Useful dialogue'
Mr Heath, who represents the Somerton and Frome constituency said there had been a "very useful dialogue" with the European Union Health Commissioner Tonio Borg.
Mr Heath told the BBC's Inside Out West TV programme: "He's come back with some proposals as to how we could take this forward in an effective way, we're very keen to do that.
"The bad news is that there's a very long timescale. Commissioner Borg estimates that, even if everything goes swimmingly, it will probably take about 10 years before we actually are able to use a vaccine on cattle in this country."
Scientists at the Animal Health and Veterinary Laboratories Agency (AHVLA) in Surrey have been working to find a vaccine for the past 15 years.
In 2012 they applied to the Veterinary Medicines Directorate (VMD) for the licensing of the Bacillus Calmette-Guérin (BCG) vaccine, the same one used to protect humans, for use in cattle.
Prof Glyn Hewinson, chief scientist at the AHVLA said although BCG is not 100% effective "it does work".
"What we know is it will protect a certain number of animals against acquiring infection," he said.
"It will reduce the infection in a certain percentage of animals, and by doing so we expect it to reduce the transmission of TB from one animal to another."
But even if the VMD grants a licence for BCG to be used in cattle, field trials still need to be held to prove that it works under real farm conditions as well as experimental ones.
And these field trials are blocked from going ahead because of the ban on vaccinating cattle.
The reason for the ban is the skin test currently used to identify cattle with TB cannot tell the difference between infected animals and those vaccinated with BCG.
'Robust data'
Both infected and vaccinated animals appear to test positive for TB so scientists are now looking at the the DIVA test (Differentiate Infected from Vaccinated Animals) as a way of telling the difference.
Prof Hewinson says his team has developed one but this also needs field trials.
He said: "At the moment we're in this Catch-22 where it's illegal to vaccinate cattle and yet in order to generate robust data to reassure Europe that our DIVA tests are sensitive enough we need to do field trials."
Prof Hewinson said his scientists will now work on designing the necessary field trials so that a detailed approach can be presented to European officials in the hope of moving forward.
You can find out more about this story on Inside Out West on BBC One at 19:30 GMT and afterwards on the iPlayer.