Retired Bishop of Lewes denies abuse cover-up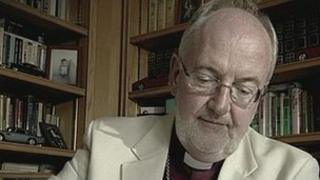 A former bishop said to have failed to tell police about a paedophile priest has said there was no cover-up.
Retired priest Robert Coles was jailed on Thursday for sexually abusing three boys aged from 10 to 16.
It was said in court Coles told senior clergy, including former Bishop of Lewes the Rt Rev Wallace Benn, he had abused one of the children but the information was not given to police.
Bishop Benn said there was no ineptitude or cover-up on his part.
'Under no illusions'
Coles, 71, of Upperton Road, Eastbourne, pleaded guilty to 11 charges of abusing boys in West Sussex, Devon, Cornwall and the Isle of Wight.
Brighton Crown Court was told the Crown Prosecution Service had decided not to proceed with seven other charges relating to the same three boys and the judge ordered them to lie on the court file.
The Archbishop of Canterbury, Justin Welby, said he was "appalled" by the case and apologised for the "betrayals and failings that occurred."
Bishop Benn, who retired at the end of October last year, said in a statement on Friday he was under no illusions about the seriousness of the situation involving Coles.
He said that shortly after taking up his position as Bishop of Lewes in June 1997 he became aware Coles was under investigation by the police.
He said Coles met him with another senior member of the clergy and denied the allegations under investigation by the police, but admitted sexual activity with a minor.
He said he passed on the information to the Diocese of Chichester child protection adviser Janet Hind and the then Bishop of Chichester.
In 2011 it was revealed the Archbishop of Canterbury's office was investigating two complaints against Bishop Benn made under clergy discipline measures (CDM) by the Diocese of Chichester's safeguarding advisory officials.
Bishop Benn said in his statement the Archbishop of York concluded in October last year both complaints should be dismissed on the ground there was insufficient substance to proceed.
He said an appeal by the original complainants was dismissed last month.
A spokesman for the Archbishop of York's office said: "We are not able to comment on CDM matters that may be ongoing."