East of England Ambulance Service vehicle staffing 'a challenge'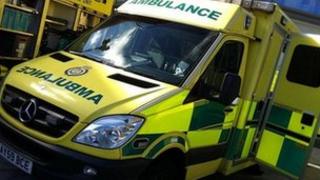 The East of England Ambulance Service (EEAS) said it is finding it "a real challenge" to find staff to operate 15 extra ambulances introduced on Monday.
The additional vehicles were brought in following patient and staff feedback to identify where more ambulances might be needed.
The trust said it would be reliant on staff overtime for the extra ambulances until more staff had been recruited.
The EEAS has been criticised in the past for poor response times.
A spokesman said: "The extra ambulances are in operation as and when we have the staff to occupy them.
"The extra ambulances have all been delivered to their stations, but we are finding it a real challenge at the moment to fill all the shifts because we are reliant on staff overtime until our new recruits are on board over the coming few weeks."
'Tired and fed-up'
The trust is recruiting 75 new paramedics and 124 care assistants.
Neil Storey, director of emergency operations at EEAS, said: "While the additional recruitment is still to come into effect... we do need the help and support of our own staff to cover these vehicles."
Unison's EEAS branch Secretary Gary Applin welcomed the increase in ambulances - which require two members of staff - but said he was not surprised to find not enough staff had come forward to cover shifts.
"They're tired, they're fed up and they've got low morale and I think they've probably heard it all before," he said.
The new ambulances are based in Beccles, Chelmsford, Cromer, Dereham, Diss, Downham Market, Felixstowe, Huntingdon, Mildenhall, Peterborough, Potter Heigham, Saxmundham, Southend, Sudbury and Weeley.
Health minister and North Norfolk MP Norman Lamb, who last week said he had "real concerns" about how the East of England Ambulance Trust was run, said he was not surprised that there had been staffing issues with the new ambulances.
"I'm very disappointed but not necessarily surprised," he said. "One would have thought they had got their act together to make sure that they could be brought in to use on time.
"I'm meeting with the chair and the interim chief executive on Thursday and will pursue it with them."
The trust has faced criticism in recent months over failing to meet performance targets.
Results of a Care Quality Commission investigation into the trust are due to be published in March.