Accountant jailed for running brothels in Liverpool and Manchester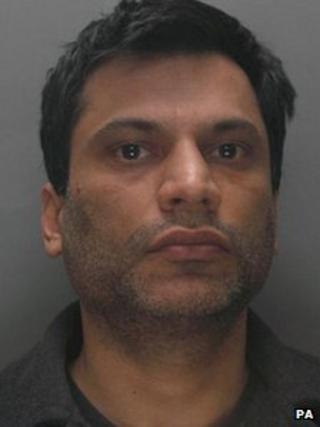 An accountant who had a second "unlawful enterprise" running brothels in Liverpool and Manchester has been jailed.
Rishi Gosain, 41, of Rotherwood Avenue in Stretford, admitted controlling prostitution for gain, at Liverpool Crown Court.
Judge Robert Trevor-Jones said Gosain had had "40 or 50 escorts engaged in this business".
He was sentenced to two-and-a-half years imprisonment.
Gosain also admitted eight counts of voyeurism and was jailed for four months for each charge, to be served concurrently.
Two charges of controlling a child prostitute were ordered to lie on file.
David Watson, prosecuting, said Gosain had operated a number of escort agencies which had been fronts for brothels, including one in Manchester's City Heights apartment building and another at City Gate West, Liverpool.
'Large-scale'
He said once employed, the women were expected to pay Gosain "a fee, commonly 30% to 35%" and there was evidence that had earned him £94,730.67 between January 2010 and May 2012.
Passing sentence, Judge Trevor-Jones said Gosain's prostitution business was a "large-scale and substantial concern".
"It is clear that you had very close involvement and control in the prostitution [and] you also, on a number of occasions, covertly recorded yourself in the course of sexual activities for your own sexual gratification," he said.
He added that Gosain's accountancy career which had run "parallel of course to this unlawful enterprise" had been "terminated given the publicity associated with this prostitution".