West Mercia PCC 'no confidence' vote defeated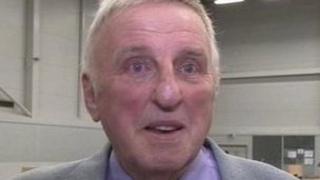 A vote of no confidence against West Mercia's police and crime commissioner has been defeated at a Worcestershire council.
Conservative-controlled Bromsgrove council met following criticism of Bill Longmore's decision to appoint his ex-campaign manager as his deputy.
Labour group leader Peter McDonald tabled a motion against Mr Longmore, but failed to get enough support.
The county council has rejected a Labour-proposed motion over the PCC.
It was put forward after the Independent police and crime commissioner appointed Barry Sheldon as his deputy on a £50,000 salary.
Mr McDonald tabled the Bromsgrove Labour group's motion as the district council met on Wednesday evening.
Following last month's outcome from the Tory-led county council, Mr Longmore said he was pleased it went in his favour and said he had "no animosity" towards those against him.