Capt Rupert Bowers killed by stepping on bomb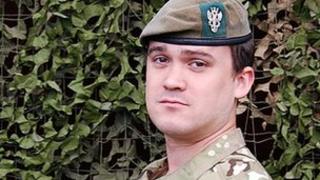 An army captain died after he stepped on a bomb in Afghanistan, an inquest has heard.
Wolverhampton-born Capt Rupert Bowers, 24, of 2nd Battalion The Mercian Regiment, was killed in the blast while on routine patrol on 21 March.
John Ellery, the coroner for mid and north Shropshire, recorded a verdict at Wem Town Hall of death by blast injuries while on active duty.
Capt Bowers had lived in Rutland with wife Victoria and baby son Hugo.
At the time of the explosion, the soldier had been attached to 2nd Battalion, The Rifles, operating as an advisor to the Afghan National Army.
In April, more than 250 people turned out for a full military funeral in Moreton Corbet, Shropshire, where the rest of his family now lives.
Capt Bowers went to school at Old Swinford Hospital, in Stourbridge, and then trained at the Royal Military Academy at Sandhurst.
He joined 1st Battalion The Worcestershire and Sherwood Foresters Regiment in 2007, before his attachment to Afghanistan.