First birds released after south coast oil rescue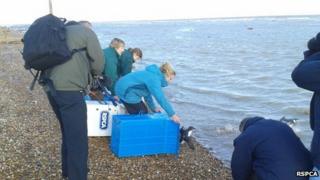 Some of the birds rescued after being covered in an oil additive have been released back into the wild.
Hundreds of birds, mostly guillemots, were washed up on the south coast of England three weeks ago, covered in glue-like polyisobutene (PIB).
The RSPCA took more than 300 birds found in Dorset, Cornwall, Hampshire and Sussex to centres in Taunton, Somerset, and Hastings in East Sussex.
On Wednesday 22 guillemots were released at Pett Level beach.
The birds were among 65 cared for at nearby Mallyadams Wood wildlife centre in Hastings.
The centre's manager Bel Deering said: "Our staff have done a fantastic job in cleaning and caring for these birds and now some of them are strong and fit enough to be released back to the wild where they belong.
"They arrived in quite a weak state and needed quite a bit of care and attention to get them rehydrated, fed and strong again before we could wash the sticky substance off them."
The remaining birds at Mallydams Wood and West Hatch wildlife centre in Taunton, which include some razorbills, will be released in the coming weeks.
The RSPCA said washing up liquid was initially used to clean the birds, but margarine proved to be far more effective.
It is believed the oil came from a ship, but the vessel has not yet been identified.