West Mercia Police to close buildings 'to save jobs'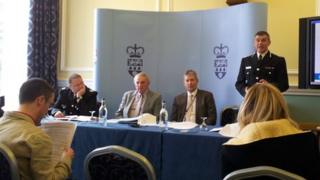 About 33 facilities belonging to West Mercia Police are to be closed in order to avoid cutting some jobs.
A mixture of stations and bases in community buildings will either reopen elsewhere or be moved to another building in order to save £1.5m.
However the force admitted about 80% of its budget was spent on salary costs and it was inevitable "some people will face redundancy".
It is unclear how many jobs will go but the force needs to save £20.1m by 2015.
The £1.5m saved by closing the buildings is equivalent to 30 police constables or 50 police community support officers (PCSOs).
Police buildings, including those in Bromsgrove, Droitwich, Stourport-on-Severn, Pershore, Tenbury Wells, Bewdley, Hagley and Broadway are closing in Worcestershire.
Bromyard, Ross-on-Wye and Peterchurch are among those shutting in Herefordshire.
In Shropshire, Donnington Mill, Ironbridge, Newport, Albrighton, Cleobury Mortimer and Ellesmere are to close.
Some will be covered from other towns and others will relocate to another building such as a school or community centre.
Police and crime commissioner Bill Longmore said: "This is in some ways a historic day, the police service is changing.
"None of the buildings will close until there's something to replace them with."
Ken Mackaill, chairman of the West Mercia Police Federation, said the force had saved £10m in recent years without affecting the frontline.
He said: "It's important to retain bases in the best places so that police coverage is still maintained without increasing the travelling distances for officers.
"But the priority has been to retain as many officer posts as possible.
"This is about cost cutting and saving money and the right thing is to maintain the numbers."
'Morale hit'
Mr Mackaill added most members of the public tend to use the phone or the internet to contact the police.
Chief Constable David Shaw said "morale had taken a hit" but giving up some assets will help maintain frontline services.
Mr Shaw said: "Members of our workforce will be moving locations to ensure they are in the right place.
"Putting resources in those areas that have high crime rates and the greatest needs means making sure they have the people they need.
"It is sometimes a choice of buildings or people."
A statement from West Mercia Police said an alliance with Warwickshire Police will help save on resources and the force had saved some money by not replacing staff and officers when they had left the organisation.
Other changes include PCSOs working until midnight not 22:00 GMT.
A public consultation on the changes is being carried out with public information sessions taking place on Thursday 28 February in Shrewsbury and in Worcester on Thursday 5 March.