Local councils get rewards for rubbish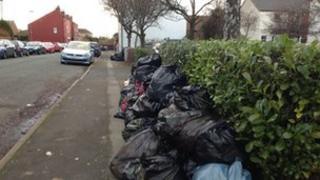 Suddenly ministers are showering vast sums of government money on local councils.
Suspend your disbelief.
Seven West Midlands councils are being awarded a total of more than £10m between them for each of the next five years.
They are among the winners of a nationwide beauty contest: and being famously "in the eye of the beholder", the star of the show is literally rubbish.
The Weekly Collection Support Scheme was launched by the Communities and Local Government Department a year ago to encourage councils to bid for extra funding on condition they introduce, retain or re-instate weekly bin collections as their first priority along with a list of other environmental and efficiency commitments.
The money will become available from April.
Here's how it stacks-up and what each of the winners have promised in their bids.
BIRMINGHAM
The sum of £29,785,495 for implementing a recycling reward scheme for households, introducing weekly recycling collections to over 100,000 households who currently have a fortnightly recycling service and supporting weekly residual waste collections.
COVENTRY
The sum of £1,025,000 for introducing a recycling rewards scheme to every household and university halls of residence in Coventry, helping increased participation in the existing recycling and composting schemes, and supporting weekly residual waste collections.
DUDLEY
The sum of £1,807,792 for introducing plastic bottles and cardboard recycling, a free-of-charge recycling collection for schools, and a recycling rewards scheme, whilst supporting weekly residual waste collections.
MALVERN HILLS
The sum of £1,672,195 for introducing a separate glass recycling collection while supporting weekly residual waste collections.
SOLIHULL
The sum of £2,959,038 for supporting a weekly residual waste collection and moving from fortnightly kerbside sort to a fortnightly co-mingled collection for recyclable materials. This will expand the range of recycling collected and reduce the number of receptacles needed for householders.
STOKE-ON-TRENT
The sum of £14,311,759 for supporting weekly residual waste collections for 88,231 households and increasing the frequency of recycling collections from fortnightly to weekly, introducing further recycling services across the city and constructing a Fuel Preparation Plant.
WOLVERHAMPTON
The sum of £2,570,234 for encouraging recycling through the introduction of a recycling reward scheme while supporting weekly residual waste and food waste collections.
(Source: Communities and Local government department)
For the record, only two of the councils, Malvern Hills and Solihull, are Conservative-controlled, the rest are Labour-run. So ministers are unlikely to be accused of looking after only their friends.
But they should resist any temptation to trumpet themselves as the government that saved the weekly bin collection.
Of our Midlands list, only Stoke-on-Trent would be re-introducing weekly bin collections, subject to their study of how they would implement them.
For the rest, it is a case of guaranteeing they will continue as they are, at least for five more years.
But the government's critics see a deeper concern lurking beneath the government's largesse.
One Green Party councillor in Solihull told us that this extra money was being offered with tight government strings attached, while spending on other local services like adult day centres were having to be pruned radically because of the budget cuts.
What does this say about "Localism"? "Top down more like", say the government's opponents.
Could it perhaps be that ministers reckon bin collections are a much more potent issue on the doorstep, literally, than are most other local services which concern fewer people?
The theory goes that being associated with the retention or resumption of weekly bin rounds enables the Communities Secretary Eric Pickles to strike a popular chord while diverting attention from his austerity measures elsewhere.
It used to be said as a joke that most people just wanted councils to get on with emptying the bins.
Many a true word.
But what does this say about our democracy? Is this why Sir Albert Bore, the Labour leader of Birmingham City Council warns that we are facing "the end of local government as we know it"?
This will be among our main talking points on this weekend's Sunday Politics Midlands, when I will be joined by the Conservative MP for West Worcestershire, Harriett Baldwin and the Labour MP for Wolverhampton South East, Pat McFadden.
And I hope you will join me too, from 11:00 on BBC One this Sunday, 3 March 2013.