William Morris' tapestry sketches auctioned in Newbury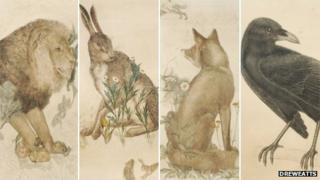 Four sketches which formed the designs for William Morris' tapestry The Forest have sold at auction for more than £120,000 in Berkshire.
The Lion, The Hare, The Fox and The Raven were created by Philip Webb in 1886/7.
They came from a house near Oxford and were sold to more than one UK buyer at Dreweatts in Newbury.
In 1934, they were displayed at the Victoria and Albert Museum in London, where the tapestry hangs.
'Extremely significant'
Auction consultant and BBC antiques expert Eric Knowles described the watercolour and pencil sketches as "remarkable" and added the tapestry was "extremely significant to the art world".
The four sketches each had a guide price of £2,000-£6,000, but sold for between £7,500 and £56,000, plus a buyer's fee, with the The Lion fetching the highest sum.
Morris was an English textile designer and an influential figure of the Arts and Craft Movement which began in the 1880s.
Webb's images were on display at the museum in 1934 as part of the "Centenary of William Morris" exhibition.
The images formed part of The Hodson Collection which is expected to fetch a total of about £500,000, over three auctions.
The final one is due to take place in London on 4 April.