Universities go virtual: 'Bricks to online clicks'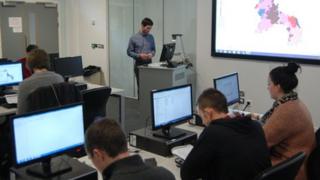 How university students do their studies has changed significantly in recent years with the growth in online learning.
Instead of physically attending lectures or going to the library, they can download lesson plans and lecture notes to their laptop, have a Skype conversation with a lecturer and submit work online.
With more universities now offering e-learning and MOOCs (massive open online courses) is there now a need for them to still have classrooms and a campus?
The University of Warwick was one of 12 to sign up with a company called Futurelearn in December to enable them to offer free online degree-level courses and MOOCs to students around the world.
The first of which in behavioural science will start in July.
Mark Taylor, from the university, said he hoped it would help attract more students to come to study at the university rather than as a direct substitute for learning on campus.
He said: "There is a branding to it, getting people worldwide to realise the quality of work and teaching that is available and encouraging students to come and study with us more formally."
"Also with higher tuition fees, if somebody is charging you £9,000 a year you might want to have a look at what's on offer there before you actually turn up, which you can do with these courses."
One university that has seen the benefits of offering an open course is Coventry.
'Napster moment'
At its peak, its photography and narrative class, Phonar, attracted more than 35,000 participants worldwide over a four week period .
Lecturer Jonathan Shaw said: "The idea that these courses were free haven't meant students don't want to come to university. Within two years the photography course is the hardest to get into and we only accept one in 10 students that we interview.
"People say we're at the Napster moment, the MP3 type revolution, and fundamentally these MOOCs will shake up what education is about.
"But the music industry didn't die, it's become something different, and I think education will naturally face that too - people still go to pop concerts because they want the physical experience."
Staffordshire University is planning to launch its first MOOC in Sports Law.
It hopes to build on the success of online masters courses it offers.
Adrian Sym, 45, who works in Germany, did an online MA in international policy and diplomacy while living in Nepal.
"I never set foot in the university," he said.
'Human interaction'
"It was really the only option open to me because I was overseas but to be honest I think I would've done the same thing had I been in the UK because if you're a mature student or working, real life doesn't leave room for attending a university.
"It can be overplayed too much that technology is taking over because we essentially are communal beings and I don't see these courses overtaking that human interaction.
"To me, it's not an either or option, it's about providing education for people and it's up to them how they want to access that."
Staffordshire University has spent £10m improving its campus in Stoke-on-Trent over the last eight months.
Dr Steve Wyn Williams, who is the University's dean of policy and development, said academic organisations will always want to invest in buildings and facilities as well as technology.
He said: "The phase for universities has lasted since the 14th Century where a campus is important.
"It's a space where learning occurs and here you can hear students talking about their studies and academic work as well as what they did last night."
"I don't think it can be either bricks or online clicks, it might veer more towards the clicks because of technology and given the pressure on students and finances but the bricks are always going to be here, the challenge for universities is how you work that together."