Bristol Aero Club 'mixed reaction' to Cotswold Airport move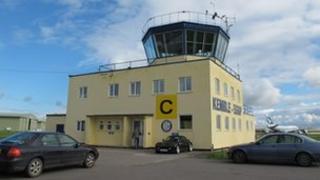 A flying club based near Bristol for 20 years has had a "mixed reaction" to its relocation 30 miles away.
Bristol Aero Club was founded for workers at Filton Airport but it was forced to leave the site after its sale to property developers in December.
The club will continue to operate but from a new base at Cotswold Airport on the Gloucestershire/Wiltshire border.
Club secretary John Ferguson said leaving Filton was "a very sad day" and the club expected to lose some members.
It began in 1994 to promote flying interests and flight training for employees of Filton-based companies, such as Airbus and Rolls Royce.
The club said it had now moved to "one of the most beautifully located airfields in the UK".
Mr Ferguson added: "We have had a mixed reaction from our members. Some I am sure will not rejoin the club at its new base, however some have taken the move very positively.
"We are sure that although we may lose some members who do not wish to move to a new airfield we will gain some living in the Kemble area."
He believes the volunteer-run club will benefit from the facilities at Cotswold Airport such as a restaurant, and that the airfield operates at weekends whereas Filton did not.
Filton Airport had been in operation for more than 100 years and saw the first UK test flight of the Concorde prototype in 1969.
Its multi-million pound sale to a property developer was confirmed by owner BAE Systems after its final commercial flight on 21 December.