Devon and Cornwall Police 'frustrated' by budget cuts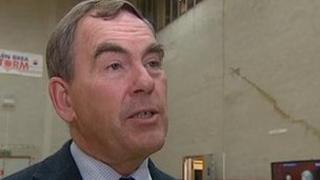 Police are "frustrated" and "struggling" as a result of budget cuts the Devon and Cornwall Police and Crime Commissioner (PCC) has said.
Tony Hogg acknowledged the difficulties on his 100th day in office.
Under government cuts Devon and Cornwall Police must reduce spending by £51m and shrink officer numbers to about 2,800 by 2015.
Mr Hogg said he hoped the public would support his officers and he had plans to introduce a cadet scheme.
'Thin blue line'
He said: "I think they're frustrated at times by the lack of numbers and what they can and can't do for the public.
"I am concerned of course, because if I'm responsible for the efficiency and effectiveness of policing I think we need well-motivated police officers with satisfactory morale.
"I want to see more special constables and I want to foster police cadets in every major town in Devon and Cornwall."
Nigel Rabbitts, the Chairman of Devon and Cornwall Police Federation, said he was pleased Mr Hogg had acknowledged the situation as the region had already lost 350 officers.
He said: "They are being stretched, it is a very thin blue line at the moment and they do need the support of the public."
Mr Hogg added that he was looking at the "policing model" and the distribution of officers between rural, urban and coastal areas of the two counties and Isles of Scilly.
Last month plans to raise the policing part of council tax bills in Devon and Cornwall by 2% were approved and will mean an extra £3.19 per household per year.