2 Sisters VION buyout 'protects' meat and poultry jobs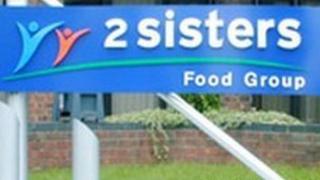 A buyout of poultry and meat processing plants in England should protect about 2,000 jobs, a meat supplier has said.
Birmingham-based 2 Sisters Food Group said its purchase of VION would give it more capacity to meet growing demand.
VION has processing sites in England, Scotland and Wales. In England, it has poultry plants in Essex and Suffolk and red meat processing plants in Cornwall.
The deal would secure the immediate future of about 6,000 jobs in the UK, 2 Sisters said.
VION currently employs 183 workers at its poultry processing plant in Basildon and 748 in Witham, both in Essex and 448 at its plant in Eye, Suffolk.
'Tough place'
In Cornwall, 555 staff work at VION's red meat processing sites in Bodmin, Victoria and Truro.
Dutch food group VION announced in November that it was selling its UK operations.
The 2 Sisters Food Group, owned by Boparan Holdings Limited (BHL), also owns Fox's biscuits and Goodfella's pizzas.
The company said VION had faced "significant uncertainty and tough trading in recent months", but its acquisition secured a "viable future".
Spokesman Andrew Hanson said all VION employees would transfer over and although 2 Sisters could not give the workforce any "absolute guarantees", there were no plans for immediate changes.
"VION has been in a tough place and losing money... and although it's too early to say what will happen in the future, our focus is on growth," Mr Hanson told BBC News.