Stafford Hospital: NHS boss defends role to MPs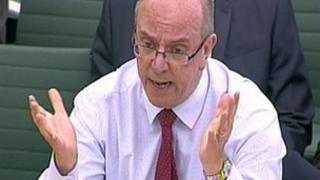 "This is not a trial," declared the Labour MP for Walsall South, Valerie Vaz as the Commons Health Select Committee began questioning of the boss of the NHS in England, Sir David Nicholson, about his part in the Stafford Hospital scandal.
But it did not take long for her to launch into a salvo of quickfire questions during which he looked for all the world like the man in the dock.
Was he mainly "a process and procedures man"?
No he was not. He had been involved in the running of hospitals for many years.
Was he aware of death rates at Stafford at the time?
Again, he was not. Mortality rates were not among the main indicators used to measure hospitals' performance then.
But he did have one big regret: that he had not met the Cure the NHS campaigners when concerns first emerged and the Healthcare Commission stepped in to investigate higher than expected death rates there.
Complaints, he said, were "a very important source of information" and it had been a mistake not to follow them up.
Since then, the Cure campaign for him to go has intensified. Members staged an impassioned protest during last week's meeting in Manchester of the NHS Commissioning Board, which was addressed by Sir David himself.
'Not innocent'
Julie Bailey, the prime-mover behind the campaign, denies he is being made a scapegoat.
"A scapegoat takes the blame for something of which he is innocent. David Nicholson is not innocent," she said.
Sir David told the MPs he was not going anywhere. His commitment to the NHS constitution and to its patients made him the best man to see through the challenges facing the health service.
This is certainly not how 20 MPs - who have signed a Commons motion urging him to stand down - see it, among them Jeremy Lefroy (Con) Stafford; Aidan Burley (Con) Cannock Chase; Bill Cash (Con) Stone and Andrew Griffiths (Con) Burton.
But how representative are they?
Most MPs I talk to on and off the record, on both sides of the House of Commons, are not convinced his departure would achieve anything.
Pat McFadden, the Labour MP for Wolverhampton South West, said that Stafford was really a failure of management within the hospital itself.
As Sir David pointed out time and time again to the committee, he was responsible at that time for the supervision of more than 50 local hospitals across the West Midlands.
No less significantly he retains his support at the top. He has been instrumental in delivering the government's complex health reforms now being rolled out across the NHS.
Minutes after the Health Select Committee hearing, Downing Street said David Cameron had been "impressed by Sir David's knowledge and understanding of the NHS and by what he had delivered in terms of results".
Sir David, they said, had "properly apologised for mistakes made at the time by the regional health authority".
So, "safe for now" appears to be the upshot. But as one former senior health manager told us, don't be surprised if in a year or so from now, once the heat has died down, Sir David quietly steps aside.