Horden shootings: Killer Michael Atherton 'wanted to avoid' row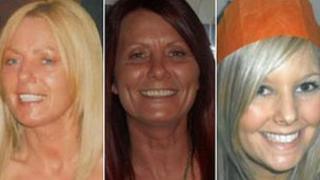 A gunman had offered to stay in a hotel to avoid confrontation on the night he killed himself and three of his family members, an inquest has heard.
Michael Atherton, 42, shot himself, his partner Susan McGoldrick, her sister Alison Turnbull and Ms Turnbull's daughter Tanya on New Year's Day 2012.
Mr Atherton had warned there would be "trouble" if he saw Alison Turnbull at his home that evening.
But his victims arrived at the house in Horden, County Durham, before he left.
Mr Atherton disliked Alison Turnbull and blamed her for his arrest in 2008 following a family row, the hearing in Crook, County Durham, was told.
Text message
On the night of the shootings, the sisters and other family members had been out to a local rugby club without Mr Atherton, who grew angry when his son Mick told him they were together.
The taxi driver sent a text message to his partner saying: "Our Mick says you are with your Ali. Going to stop at the Lodge. Aint spending a night in the cells. See you tomorrow."
But Mrs McGoldrick's party arrived home before Mr Atherton left, and his partner accused him of assaulting her earlier that night, Det Supt Paul Goundry told the inquest.
Giving evidence, Mr Goundry said an argument started and when Mr Atherton went out of the back door, those present believed he was leaving for the night.
But he returned with a gun that he had prepared for an early shoot with friends the next morning, and opened fire, first killing his partner, the inquest heard.
Survivor Laura McGoldrick, who fled to safety by climbing through the bathroom window, wept as coroner Andrew Tweddle was shown the shotgun used.
The inquest earlier heard how more than 100 gun licences were revoked in the wake of the killings.
Durham Police has admitted it knew of Mr Atherton's history of violence and the hearing has been told how the force missed opportunities to remove the weapons he legally owned.
The hearing continues.