Territorial Army soldiers prepare for Cyprus mission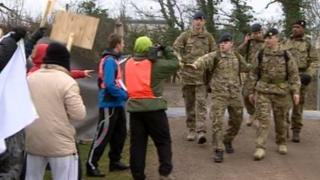 Territorial Army soldiers from the West Midlands are being posted to Cyprus for a six month peace-keeping mission.
About 60 members of the Army Reserve unit, 4 Mercian, will join the regular army patrolling the Turkish/Cypriot border at the end of March.
The soldiers have been carrying out training exercises at Nescliffe Army Camp in Shrewsbury.
The unit recruits from TA bases across the Midlands including Birmingham, Kidderminster and Stoke-on-Trent.
The troops have been taking part in exercises including mock street battles, crowd control operations and driver training.
"The training is quite realistic and shows you the kind of thing you'll face when you're on the front line," said L/Cpl Neil Clowes.
'Miss my family'
The 39-year-old from Northfield in Birmingham normally works as a lifeguard at a leisure centre in Kings Heath.
"I will miss my family and the routine of work, but my employers are supportive of the TA because it helps you learn leadership and management," he added.
The soldiers will join a 250-strong unarmed peacekeeping mission in the UN buffer zone.
Lt Col Rob Askew, commanding officer of the 17 Port and Maritime Regiment, said: "We've got people from all walks of life coming onto this operation alongside our regular soldiers.
"Many of the skills they have in civilian life will really help us in delivering our job in Cyprus."
The UK's contribution to the UN operation in Cyprus began in 1964 making it the longest peacekeeping mission in British military history.